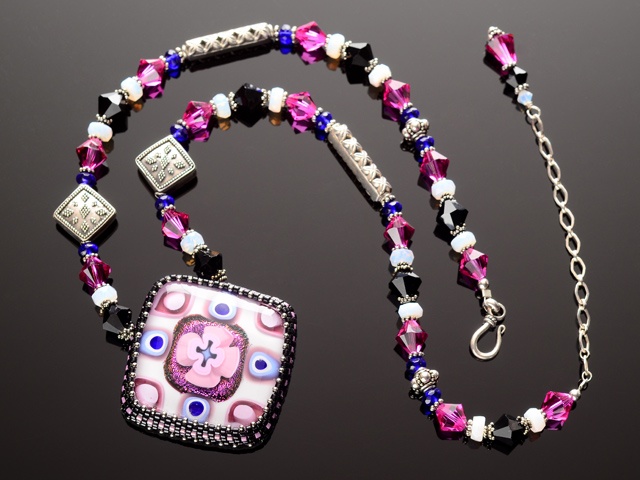 Pink & Cobalt Buttercup Flower Necklace
Fused Glass, Swarovski Crystal, Czech Glass, Japanese Glass Seed Beads, and Sterling Silver
2011
This original fused geometric glass pendant features a bold color palette and angular design centered on a single pink buttercup flower. The pendant is peyote stitched with Japanese glass seed beads in black, iridescent pink and sterling silver finish. The back of the pendant is finished with a soft black ultrasuede. The Swarovski crystals and Czech glass beads are beautifully punctuated with decorative sterling silver beads with floral motifs and angular details which compliment the glass pendant. All silver beads in this necklace are sterling silver including the adjustable hook and chain clasp.
This necklace would make an excellent match with Pink & Cobalt Buttercup Earrings.
Necklace Measures:
Necklace adjusts from 18 inches to 21 inches for a perfect fit.
Pendant Measures:
Length: 1 3/4 inches
Width: 1 3/4 inches