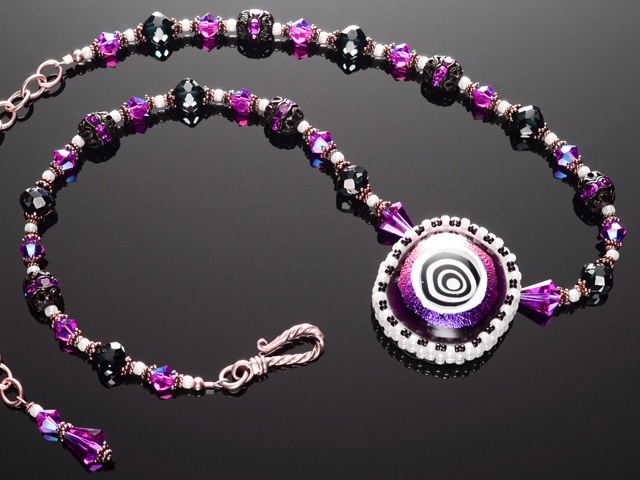 Magenta Hypnotic Eye Necklace
Fused Glass, Vintage Swarovski Crystal, Japanese Glass Seed Beads, and Sterling Silver
2011
Original fused glass cabochon features magenta dichroic glass and a hypnotic "eye" millefiori on a dark purple background. The eye detail has incredible visual depth since it is magnified several times by layers of clear glass. The pendant is peyote stitched with Japanese glass seed beads in black and pearlized white finish. The back of the pendant is finished with a soft black ultrasuede. The crystal beads in this necklace feature some of my best Vintage Swarovski for dramatic effect. Magenta Pyramids (art. 5400), Crystal Cosmojet (art. 5309) and magenta crystal rhinestone filigree beads with black enamel. All silver beads in this necklace are sterling silver including the adjustable hook and chain clasp.
This necklace would make a tasty match with the Magenta & Purple Hypnotic Earrings.
Necklace Measures:
This necklace adjusts from 16 inches to 20 inches for a perfect fit.
Pendant Measures:
Length: 1 3/8 inches
Width: 1 3/8 inches